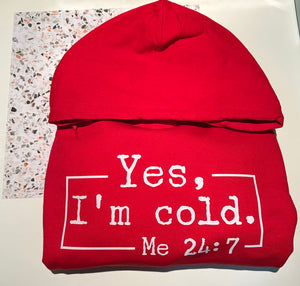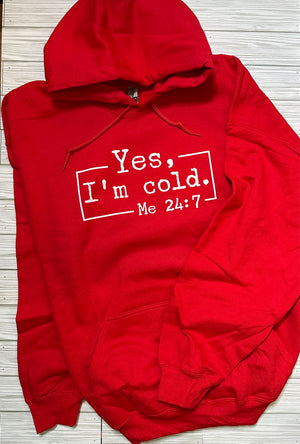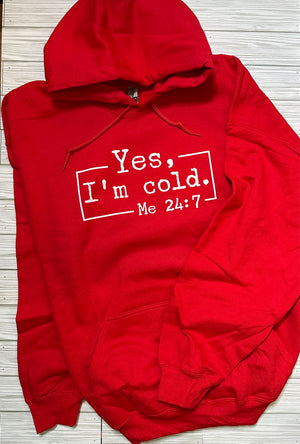 Yes, I'm Cold! Hoodie
Introducing our brand-new "Yes, I'm Cold!" Red Hoodie – the perfect companion for those chilly days when you need warmth and style wrapped into one cozy package. Embrace the season with open arms (and a toasty torso) in this delightful hoodie.
Picture yourself strolling through autumn's colorful embrace, wrapped in the warmth of this vibrant red hoodie. Crafted with the softest, high-quality fabric, it's your ticket to comfort on those brisk, nippy days.
The "Yes, I'm Cold!" Red Hoodie isn't just about keeping you snug; it's a fashion statement too. With a classic, relaxed fit and a trendy design, you'll effortlessly stand out in any crowd. The rich red color not only adds a touch of elegance but also brightens up your day – and your wardrobe.
Our hoodie features a spacious front pocket to keep your hands warm and your essentials close by. The cozy interior ensures that you'll feel like you're wrapped in a warm hug every time you slip it on. The ribbed cuffs and waistband provide a snug fit, making sure no chilly breeze gets inside.
Whether you're sipping hot cocoa by the fire, taking a leisurely walk in the park, or simply lounging at home, "Yes, I'm Cold!" Red Hoodie has got you covered. It's the versatile, must-have addition to your wardrobe for fall and winter.
Don't let the cold catch you off guard – let our red hoodie keep you snug and stylish all season long. Say goodbye to the shivers and hello to "Yes, I'm Cold!" – because you deserve to be warm and fabulous. Embrace the cold, and let it embrace you back.