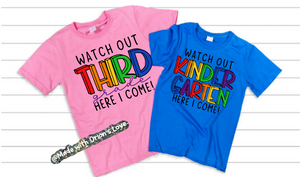 Watch Out! Grade Level Shirt
Introducing the exciting and confidence-boosting "Watch Out!" kids shirt, the perfect companion for those little ones gearing up for a new school year. With its spirited message, this shirt lets the next grade level know that a rising star is on the horizon and ready to make an impact!
Designed with enthusiasm and style in mind, the "Watch Out!" shirt exudes a vibrant and energetic aura. Its eye-catching print features bold fonts and playful graphics that capture the essence of a young go-getter who's eager to conquer the next academic milestone.
As your child steps into a new grade level, this shirt becomes their personal statement of determination and self-assurance. It serves as a reminder that they have what it takes to shine and succeed, encouraging them to approach each school day with enthusiasm and confidence.
Crafted from soft and comfortable fabrics, this shirt ensures a cozy fit throughout the day, making it ideal for all those action-packed school adventures. Whether it's running between classes, participating in recess activities, or expressing their unique style, this shirt keeps up with their every move.
Not only is the "Watch Out!" shirt perfect for back-to-school excitement, but it also makes a fantastic gift for birthdays, achievements, or simply celebrating a child's zest for learning. It's a fun and empowering addition to any young student's wardrobe, igniting their enthusiasm and fostering a positive mindset.
Get ready to embrace a new grade level with the "Watch Out!" kids shirt. Watch out, world, because here they come! It's a fashion statement that radiates confidence, encourages self-expression, and reminds your child that they are capable of amazing things. Let the next grade level watch out, as your little one shines brightly and leaves their mark.
*** Please note that you are picking the GRADE LEVEL and color. You must tell me size in the notes when ordering***