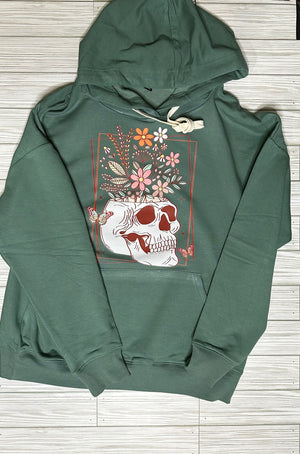 Skull Flower Pot Hoodie
Introducing our stylish and versatile sage colored hoodie! This green hoodie is not your ordinary piece of clothing - it's a fashion statement that combines edginess with a touch of femininity. Made from high-quality materials, this hoodie is not only incredibly soft but also perfect for layering, allowing you to create various trendy outfits throughout the year.

The standout feature of this hoodie is its unique skull and flowers design. The skull flower pot design adds a touch of intrigue and mystery to your look, while the delicate flowers bring a feminine and artistic element to the overall design. This combination creates a perfect balance between boldness and elegance, making it suitable for any occasion.

Whether you're heading out for a casual day with friends or attending a music festival, this hoodie is a must-have in your wardrobe. Its comfortable fit and lightweight fabric make it ideal for all-year-round wear. Layer it over a t-shirt or pair it with your favorite jeans for a relaxed and effortlessly cool look. With this green hoodie, you'll not only stay cozy but also make a fashion statement that will turn heads wherever you go.
70% Viscose│16% Cotton│11% Polyester│3% Elastane
Size Conversion: XS = 2 | S = 4-6 | M = 8-10 | L = 12-14 | XL = 16 | XXL = 18 | | 2X = 20 | 3X = 22