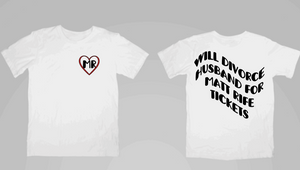 Matt Rife Shirt
Introducing the must-have shirt for all the Matt Rife fans out there! Get ready to show off your sense of humor and love for this incredible comedian with our hilarious design that will surely turn heads and spark laughter wherever you go.
The back of the shirt proudly declares, "I will divorce my husband for Matt Rife tickets!" in bold, eye-catching letters. This cheeky statement is guaranteed to elicit chuckles and raise eyebrows, showcasing your unwavering dedication to experiencing Matt Rife's comedic genius live.
Crafted with utmost care and attention to detail, this shirt offers the perfect blend of comfort and style. It features a classic unisex fit, allowing both men and women to rock this comedic gem. Made from high-quality, soft fabric, you'll feel at ease as you embark on your hilarious adventure wearing this piece of wearable comedy.
Whether you're attending a Matt Rife show, hanging out with friends, or simply enjoying a day out, this shirt will be a conversation starter. It's an ideal gift for fellow fans of Matt Rife or anyone with a great sense of humor who can appreciate a well-crafted comedic twist.
So, don't miss out on this fantastic opportunity to showcase your love for Matt Rife and his side-splitting performances. Grab your "I will divorce my husband for Matt Rife tickets!" shirt today and let the laughter ensue!
**please note font will be WHITE on a black shirt.