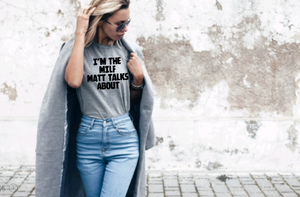 Matt Rife MILF Shirt
Introducing the uproariously funny shirt that's sure to make a bold statement wherever you go! If you're a fan of Matt Rife's comedic genius and want to embrace your sense of humor, our Matt Rife MILF shirt is a must-have addition to your wardrobe.
This shirt is all about embracing the hilarious side of life. Featuring a witty and daring design, it proudly declares, "I'm the MILF Matt talks about" in attention-grabbing letters. With a touch of playfulness and a sprinkle of confidence, this shirt is perfect for those who aren't afraid to embrace their inner humor and make a statement.
Crafted with utmost care, this shirt offers a comfortable fit for both men and women. Made from premium quality fabric, it feels soft against the skin and ensures long-lasting comfort throughout the day. The vibrant design is printed with high-quality materials, ensuring the message stays clear and vibrant even after countless laughs and washes.
This shirt is not just a hilarious fashion statement; it's also a fantastic conversation starter. Wear it to a Matt Rife show, a night out with friends, or any event where laughter is the order of the day. It's also a great gift for fans of Matt Rife or anyone who appreciates a good laugh.
So, why wait? Let your sense of humor shine with our Matt Rife MILF shirt. Embrace the laughter, embrace the confidence, and let the world know that you're unapologetically funny. Get ready to turn heads, spark conversations, and spread joy everywhere you go!
***Please note that the black shirt will have WHITE font***