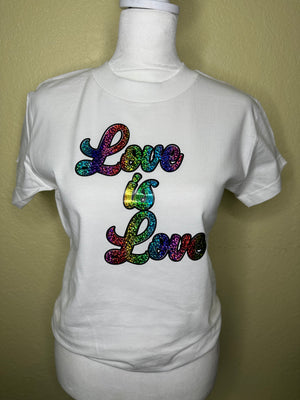 Love is Love Shirt/Hoodie
Introducing the "Love is Love" Pride Shirt: Wear Your Heart on Your Sleeve
Celebrate the power and beauty of love with our dazzling "Love is Love" Pride Shirt. Vibrant and captivating, this shirt features a holographic rainbow font that embodies the colorful diversity of the LGBTQ+ community. It's a bold and radiant statement piece that proudly declares that love knows no boundaries and that no one should ever feel ashamed of whom they choose to love.
Designed with utmost care and attention to detail, this shirt is a testament to inclusivity and acceptance. The holographic rainbow font shimmers and dances in the light, symbolizing the boundless spectrum of love that knows no limitations. Its vivid and dynamic hues reflect the vibrancy and resilience of the LGBTQ+ community, making it a powerful symbol of pride and unity.
Crafted from premium, soft, and breathable materials, this shirt ensures exceptional comfort throughout the day. Its high-quality fabric feels gentle against your skin, allowing you to move with ease and confidence. The carefully selected colors and vibrant holographic design make it an eye-catching fashion statement, spreading love and positivity wherever you go.
The "Love is Love" Pride Shirt is more than just a garment; it's a powerful message of acceptance and support. By wearing this shirt, you not only showcase your own belief in the beauty of love but also stand in solidarity with the LGBTQ+ community, amplifying the message that everyone deserves love, respect, and equality.
Perfect for Pride parades, LGBTQ+ events, or simply as a daily reminder of the importance of love and acceptance, this shirt allows you to express your pride in a bold and joyful way. Its vibrant colors and holographic font make it a conversation starter, encouraging meaningful dialogues and promoting understanding.
Let the "Love is Love" Pride Shirt be a reflection of your values, an emblem of love that breaks down barriers and spreads inclusivity. Join us in embracing the truth that love knows no bounds, and proudly wear this remarkable shirt as a celebration of the diversity and beauty of human connections. Together, let's create a world where love is celebrated and cherished in all its forms.
****rainbow vinyl will vary based on size and location in the roll***
V-Necks are offered up to 2X
Hoodies are available up to 3X