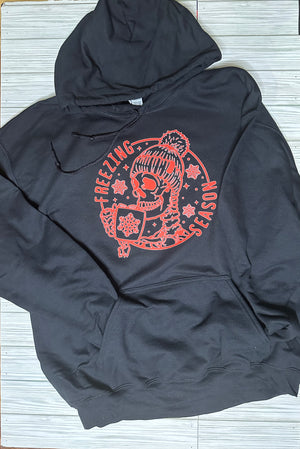 Freezing Season Skull Hoodie
Step into winter with our exclusive "Freezing Season" black hoodie, where style meets comfort. Crafted from high-quality cotton blend, this hoodie not only provides warmth but also adds a touch of edgy elegance to your wardrobe.
The standout feature of this hoodie is the striking red design that captures the essence of winter. A detailed and whimsical skeleton, wrapped in a cozy hoodie, sips hot cocoa against a snowy backdrop. The vibrant red font boldly declares the theme, creating a visually captivating contrast against the deep black fabric.
Designed for both fashion and functionality, the hoodie offers a relaxed fit, ensuring comfort without compromising on style. The soft interior provides a cozy embrace, making it your go-to choice for chilly days. The hoodie also features a kangaroo pocket for added convenience and a drawstring hood to keep you extra snug.
Pair it with jeans or leggings for a casual day out or layer it under a jacket for extra warmth during colder spells. Versatile and on-trend, this hoodie is perfect for expressing your unique style while staying cozy during the winter season.
Make a statement with our "Freezing Season" black hoodie – a fusion of fashion-forward design and winter warmth that effortlessly elevates your winter wardrobe.