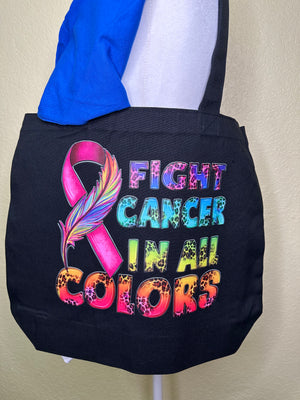 Fight Cancer bag
Introducing our sleek and stylish black tote bag, designed to make a bold statement about the fight against cancer in all colors. Made from high-quality materials, this tote bag is both durable and practical, perfect for carrying all your essentials while spreading awareness about this important cause.
Featuring a vibrant statement in bold letters that reads "Fight Cancer in All Colors," this tote bag is sure to turn heads and spark conversations wherever you go. Whether you're heading to the grocery store or running errands around town, you can show your support for cancer research and raise awareness about the need for continued efforts to find a cure.
With its spacious interior and sturdy straps, this tote bag is perfect for carrying everything from books and electronics to snacks and drinks. Its black color makes it a versatile addition to any outfit, while the bold statement about cancer adds a touch of personality and purpose to your look.
Join the fight against cancer and make a statement with our black tote bag. Not only will you be spreading awareness and inspiring others to get involved, but you'll also be supporting a great cause with every purchase. So why wait? Order yours today and start making a difference!
Now even your bag can speak volumes for you. This 100% cotton canvas tote is 18.5 x 15 inches, 12 oz.