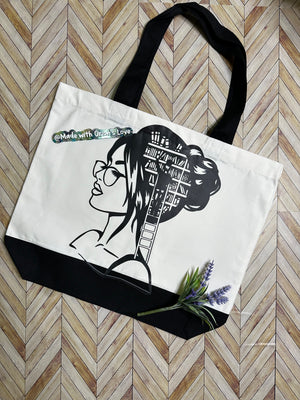 Books on the Brain Tote
Introducing "Books on the Brain" Tote Bag: Unveil the World of Sophistication Within
Step into a world where intellect and imagination intertwine seamlessly with our captivating "Books on the Brain" Tote Bag. This unique accessory celebrates the power of knowledge and the hidden wonders that lie within the pages of books, all while showcasing an exquisite design that will turn heads wherever you go.
The centerpiece of this remarkable tote is a thought-provoking illustration that captures the essence of a woman's intellect. Delicately crafted, it portrays a woman gracefully placing books back onto the shelves within the intricate corridors of her brain. This striking image symbolizes the infinite capacity of our minds to absorb and preserve the wisdom and adventures found within the pages of literature.
The "Books on the Brain" Tote Bag is not just a fashionable accessory; it is a statement. Its sophisticated design exudes elegance and refinement, making it the perfect companion for any occasion. Whether you are heading to the office, strolling through a bookstore, or attending a social gathering, this bag effortlessly merges style and intellect, setting you apart as a true connoisseur of knowledge.
Crafted with meticulous attention to detail, this tote bag offers both form and function. Its spacious interior comfortably accommodates your everyday essentials, while the sturdy yet supple handles ensure a comfortable grip. The durable canvas material withstands the test of time, making it a reliable companion throughout your intellectual pursuits.
Beyond its aesthetic appeal, the "Books on the Brain" Tote Bag serves as a reminder of the transformative power of literature. As you carry this bag, you become a walking embodiment of the hidden life found within the pages of a book. Spark conversations, inspire curiosity, and ignite the imaginations of those around you, as you proudly display your love for the written word.
Embrace the allure of sophistication and intellect with the "Books on the Brain" Tote Bag. It is a testament to the profound impact that books and knowledge have on our lives. So, step into a world where elegance meets enlightenment and allow this remarkable tote to accompany you on your journey to unlock the mysteries and wonders that lie within the pages of the books you hold dear.
This 100% cotton canvas tote is 18.5 x 15 inches, 12 oz.