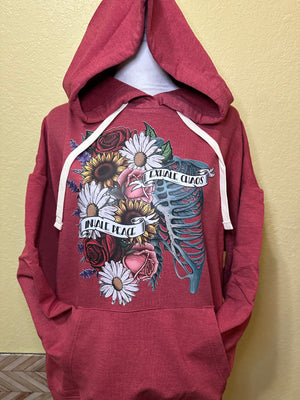 Inhale Peace Hoodie
Introducing the Inhale Peace Red Hoodie - a stylish and comfortable way to spread a message of calm in today's chaotic world.
Crafted from high-quality cotton and polyester, this hoodie is designed to keep you warm and cozy on even the chilliest days. The vibrant red color is sure to make a statement, while the unique design featuring flowers and a part of a rib cage adds a touch of edginess to your look.
The front of the hoodie features the statement "Inhale Peace, Exhale Chaos" in bold, contrasting white letters. This powerful message serves as a reminder to take a deep breath and find inner peace, no matter what challenges you may be facing.
Whether you're lounging at home, running errands, or hanging out with friends, the Inhale Peace Hoodie is the perfect addition to your wardrobe. With its comfortable fit and eye-catching design, you'll look and feel great every time you wear it.
So why wait? Add the Inhale Peace Red Hoodie to your collection today and spread a message of peace and positivity wherever you go!
70% Viscose│16% Cotton│11% Polyester│3% Elastane
Size Conversion: XS = 2 | S = 4-6 | M = 8-10 | L = 12-14 | XL = 16 | XXL = 18 | | 2X = 20 | 3X = 22